Wang's Wuhan spirit wins in the end
Share - WeChat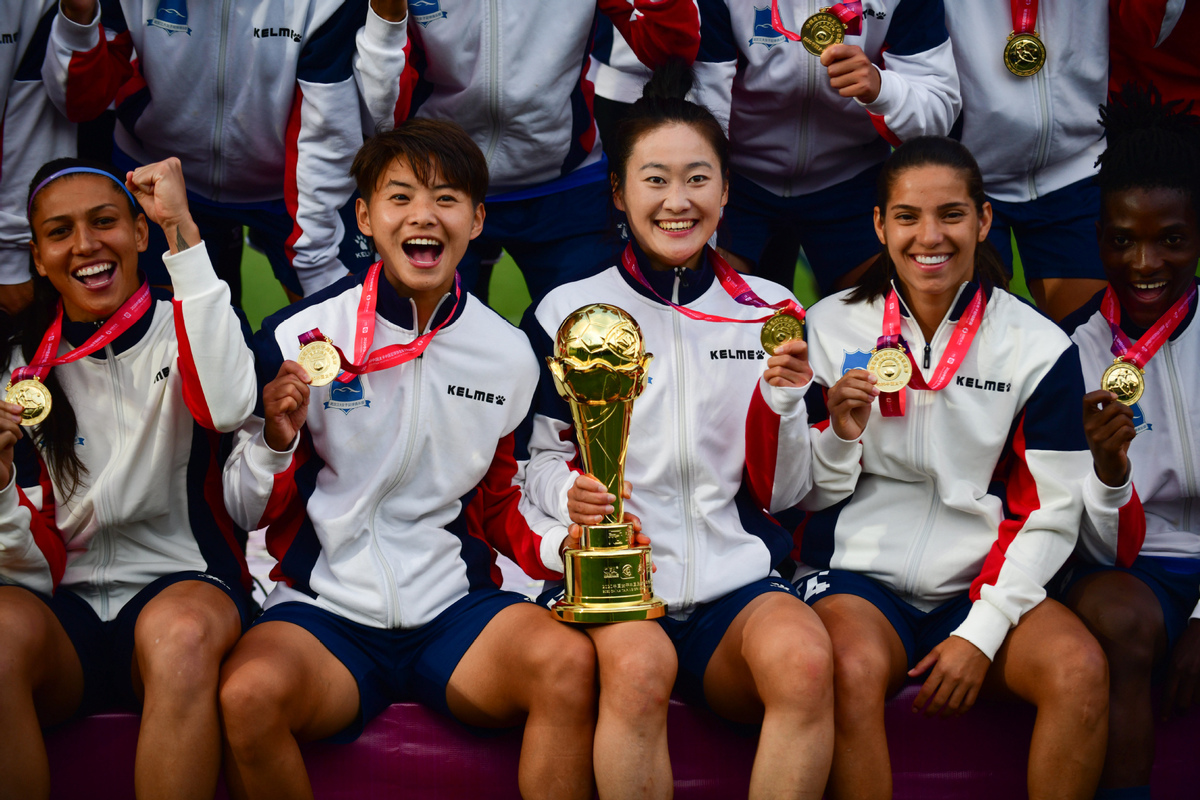 Hometown hero savoring title joy after tough year
After all the trials and tribulations of a torrid 2020, Wang Shuang has come out on top.
On Sunday, the 25-year-old was celebrating with teammates after Wuhan Chedu Jiangda won its first Chinese Women's Super League title thanks to a 4-0 victory over Jiangsu Suning in the final. The victory was especially poignant given Wuhan's fight against COVID-19 after it emerged as the epicenter of China's outbreak.
"After all these years, it's the first time for Wuhan to win the national title. It's extra special considering we did it in such a challenging time amid the COVID-19 pandemic," said Wang, a Wuhan native.
"Personally speaking, it's my third league title. The previous two were with Dalian, and this time I helped my hometown to victory. I want to thank everyone who contributed to building the team and strengthening us for victory. The title belongs to the city of Wuhan. It has not been easy for all of us."
Like all Wuhan's inhabitants, Team China international Wang found herself locked down in her home for 77 days from late January as the city rushed to contain the spread of the coronavirus.
Separated from her teammates, Wang still managed to perform some basic training in her living room or on her balcony to keep fit during quarantine.
She finally returned to the pitch in April, when she was reunited with the Team China squad for a training camp.
Since then, returning to peak condition has been the priority for Wang, and Sunday's outcome provided plenty of evidence that she's back to her best.
"I thought a lot during that time. Because of the pandemic, we stayed at home for several months without any systematic training," said the former Paris Saint-Germain playmaker. "When the league returned this year, we just thought we finally have our chance, we have to bring the league title back to the city. It's a gift for all the medical workers and all the people who supported and fought for Wuhan."
When the pandemic-delayed season finally kicked off in August, Wuhan head coach Liu Lin made no secret of his title ambitions.
"We encountered the COVID-19 pandemic this year and Wuhan was the epicenter. China overcame all the challenges to control the epidemic," said Liu.
"Wuhan is now in the process of rebuilding. All the industries there need to boost their confidence to recover, so more hard work is required. Our players are part of Wuhan and our goal was winning the title. It's been a very difficult task, but we just kept battling away, hoping to win to repay everyone. We didn't want to regret it in the future."
Heaping praise on the team's feat, Wuhan's local government wrote in an open letter to the club: "You have made history and showed the spirit of the heroic city of Wuhan and its people. You have made the city proud...Starting from this victory, we hope you can keep growing and fighting to achieve better results in the future."
After savoring this triumph, Wang's focus will begin to shift to next year's Tokyo Olympics. First, though, Team China must book a spot at the postponed Games.
Wang's Wuhan lockdown meant she missed China's Olympic qualification tournament in Australia in February, however the 'Steel Roses' overcame the absence of the 2018 Asian Football Confederation Women's Player of the Year, as well as numerous virus-related logistical difficulties, to earn a playoff berth against South Korea. The two-legged tie has been postponed until February, with the exact date and venue yet to be determined.
In the early stages of this season, Wang looked rusty and off the pace. As a keen observer of those league matches, Team China head coach Jia Xiuquan expressed concerns about all of his players' form at the time. "I have to say, based on their current performance on the pitch, it won't be easy to achieve our goals on the international stage," Jia told Xinhua.
"After they finish the league, the national team members should keep training and prepare for the Olympic qualification. Beating South Korea is our priority now, and we are confident enough."
Just like her Steel Roses teammates, Wang refused to wilt and, having steadily leveled up during the campaign, she now feels ready to give her all for China.
"As long as I stand on the pitch, I will try my best in each match," she said. "I don't think about other things too much."