Democrats to formally nominate Biden
By AI HEPING in New York | chinadaily.com.cn | Updated: 2020-08-19 09:52
The Democratic National Convention on Tuesday will formally nominate former vice-president Joe Biden and feature speeches by ex-presidents Jimmy Carter and Bill Clinton and younger stars.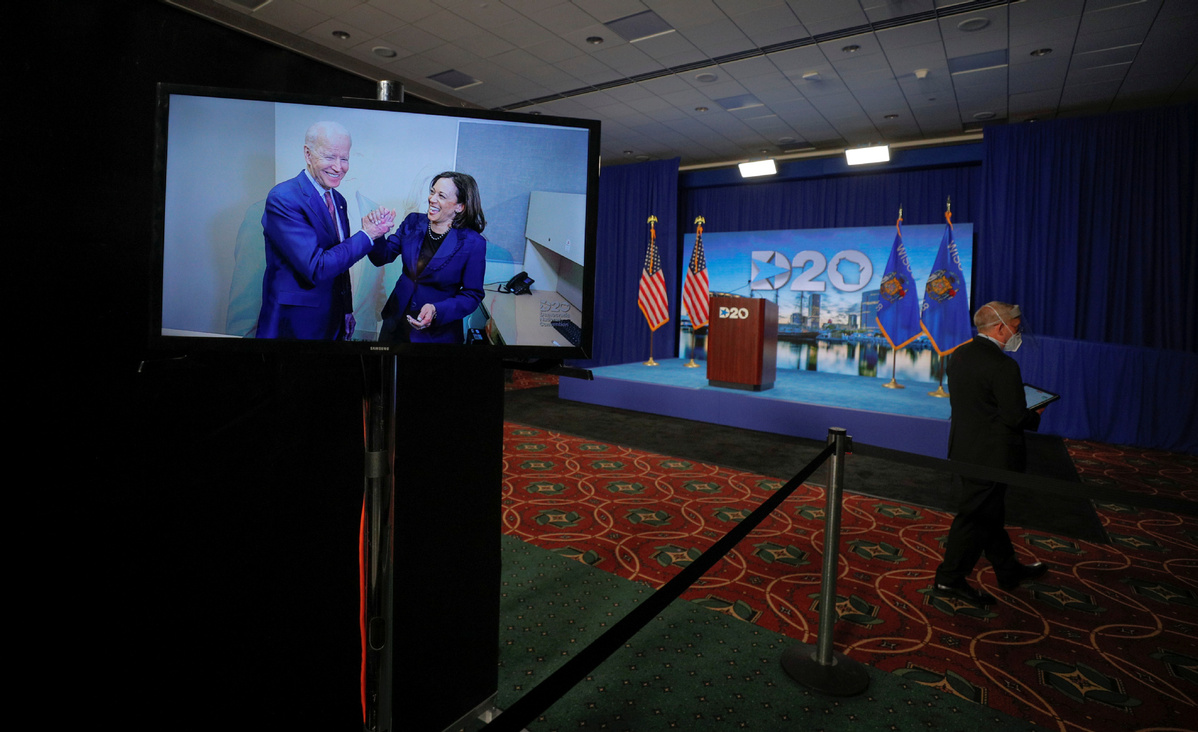 "We'll hear from the leaders and the experts, the veterans and the activists, all those who seek to unite and not divide, and who step up — not back down — from a fight over what's right," the Democratic National Convention Committee said in a news release.
Delegates from around the country will cast votes remotely to confirm Biden, 77, as the Democratic nominee for the Nov 3 election against Republican President Donald Trump, 74.
Biden will deliver his acceptance speech Thursday night. His vice-presidential pick, Senator Kamala Harris of California, will headline Wednesday night's program along with former president Barack Obama.
Under the theme of "Leadership Matters", the Tuesday keynote address will feature 17 of the party's rising stars instead of just one speaker.
Biden's wife, Jill, will deliver the final speech Tuesday.
Clinton, the 42nd president, who will be 74 on Wednesday, will speak in an address that he prerecorded from his home in Chappaqua, New York, north of New York City.
Clinton will have less than five minutes well before the prime hour of 10 pm. New York Representative Alexandria Ocasio-Cortez will speak for just one minute, which some of her progressive supporters view as a slight by the national party and a reflection of the disconnect between it and younger, more diverse and outspoken members.
To take attention from the Democrats, Trump will travel to the border city of Yuma in the hotly contested state of Arizona on Tuesday afternoon to focus on what his re-election campaign said are Biden's "failures on immigration and border security".
Senate Minority Leader Chuck Schumer of New York told CNN that in his address Tuesday he will hit Trump's immigration policies from Brooklyn with the Statue of Liberty appearing over his shoulder.
Also on Tuesday, Trump's new postmaster general, Louis DeJoy, facing lawsuits from 22 states and public pressure, abruptly reversed what he called "cost-cutting" changes to mail delivery that critics have blamed for widespread delays and fears that they could disrupt the count of mail-in ballots for the November election.
Those changes included halting the removal of mailboxes until after the election "to avoid even the appearance of impact on election mail".
"We will deliver the nation's election mail on time," DeJoy said in a statement. Trump named Dejoy, a major donor to the president, to the job in June. He is scheduled to testify Friday before the Senate on changes he has said he is making to the US Postal Service (USPS).
Trump has defended DeJoy but also criticized postal operations and claimed that universal mail-in ballots would be "a disaster".
On Tuesday, Trump said a massive shift to mail-in voting could cause so many problems officials might have to re-do the vote, — which has never occurred before — and which Trump lacks the authority to order.
The president is blocking $25 billion in emergency aid to the USPS. The House is expected to vote Saturday on legislation that would prohibit changes at the agency. The package will also include $25 billion to shore up the USPS, which faces continued financial losses.
On Monday night, former first lady Michelle Obama opened her remarks for the convention with, "You know, I hate politics". But then she proceeded to skewer Trump on immigration, race relations, the novel coronavirus pandemic, the economy and what she said was his lack of empathy.
Trump is the "wrong president for our country," she said in pretaped remarks, adding that he is "clearly in over his head".
"If you think things cannot possibly get worse, trust me, they can, and they will, if we don't make a change in this election," she said. "If we have any hope of ending this chaos, we have got to vote for Joe Biden like our lives depend on it."
Trump responded Tuesday with a series of tweets that reiterated his attacks on his predecessor and Biden, Obama's vice-president.
"Somebody please explain to @MichelleObama that Donald J. Trump would not be here, in the beautiful White House, if it weren't for the job done by your husband, Barack Obama. Biden was merely an afterthought," he wrote on Twitter.
Trump also criticized the Obama administration's handling of the 2009 H1N1 swine flu outbreak. About 12,000 people died in the US from H1N1, statistics show, compared to more than 171,000 US deaths from the COVID-19 pandemic still underway, according to Johns Hopkins University data.
Vermont Senator Bernie Sanders, who was Biden's chief rival for the nomination, urged his supporters to get behind Biden despite their policy differences.
The Republican National Convention, also largely virtual, takes place next week. Trump will give his acceptance speech at the White House, despite criticism he is politicizing the presidential residence.